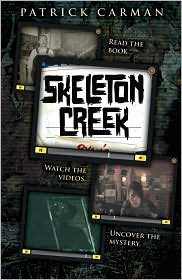 Title: Skeleton Creek
Author: Patrick Carman
Publisher: Scholastic Press
Publication Date: February 2009
Pages:186
Strange things are happening in Skeleton Creek . . . and Ryan and Sarah are trying to get to the heart of it. But after an eerie accident leaves Ryan housebound and forbidden to see Sarah, their investigation takes two tracks: Ryan records everything in his journal, while Sarah uses her video camera to search things out. . .and then email the clips for Ryan to see.
In a new, groundbreaking format, the story is broken into two parts -- Ryan's text in the book, and Sarah's videos on a special website, with links and passwords given throughout the book.
I thought
Skeleton Creek
was phenomenal. The whole concept of creating a book with videos to tie into it was a wonderful experience. Even though the videos left goosebumps on my arms and I didn't watch them before I went to bed (yes, I know I'm a scardey cat) I was madly flipping pages to get to the next password.
I also really like books that are written in diary/journal format so I was even happier to find out that
Skeleton Creek
was written in a journal format. I loved reading about Ryan's opinion on things and the way he described everything. It was very vivid and I found myself nodding my head to some of the things Ryan wrote.
Patrick Carman also did a fantastic way of building to the climax in the story. In almost every one of Ryan's entries there was a new piece to add to the puzzle. And then, when Sarah and Ryan are on the verge of putting it together, the book is abruptly left in a cliff hanger having readers eagerly anticipating the next book which will be out September 2009.
In the end I would give this book and

A-

but only because I loathe cliff hangers and the story was a little slow at some parts.

So go! Run to the bookstore and be prepared to be dazzled.